The SISMER service (Scientific Information Systems for the Sea) contributes to data management for Ifremer's programmes, in particular the Ifremer oceanographic data centre programme and the operational oceanography programmes (data centre part).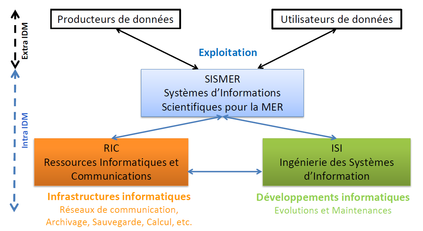 To do so, it comprises specialists in the collection, cataloguing and backup of data acquired, checked and validated through these programmes. It is also proficient in the standardised quality control procedures defined by national and international bodies. It helps to define value-added products and to distribute them. It is involved in informing users about the services and data available, in responding to requests for data and in providing assistance for the implementation of the tools provided.
It contributes to the definition, administration and evolution of information systems and the necessary databases and data portals. It participates in implementing and developing data presentation and collation tools liable to endow them with "added value".
To do so, it draws on the technical proficiency of the IT Resources and Communication (RIC) and Information System Engineering (ISI) services.
It is involved in representing Ifremer within national and international organisations concerned with oceanographic data management, in particular the Intergovernmental Oceanographic Commission (UNESCO/IOC) and the International Council for the Exploration of the Sea (ICES). In this capacity, it archives and distributes data and information relating to the French research cruises, data from the national geophysics databanks and physical and chemical data, and marine geology data in collaboration with the French geological survey, BRGM.
By decision of Ifremer's management, SISMER is involved in the definition and implementation of databases for national and international programmes.