Given the vast range of marine issues it deals with, Ifremer stands apart:
No other organisation covers such a wide variety of marine-related issues
In France, few organisations exclusively focus on the marine environment (with the exception of the French Navy's hydrographic and oceanographic service SHOM).
In France, there is no "integrated" vision of marine data. The existing partnerships are thematic. The degree of maturity of databases, the type of partners and the level of formalisation of the partnership vary greatly from one topic to another.
Physical and operational oceanography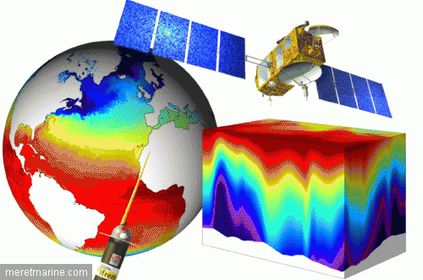 Whether on a national or international level, partnerships in this field are built on systems offering well established real time and deferred time services. The Coriolis database (in situ data) is the focus of a partnership between Ifremer, CNES (France's National Centre for Space Studies), CNRS/INSU (National Institute for Earth Sciences and Astronomy), IRD (French National Research Institute for Sustainable Development), Météo-France (French meteorological service), SHOM (French Navy hydrographic and oceanographic service) and IPEV (French Polar Institute).
As concerns high frequency systems (coastal buoys, FerryBox systems, etc.) and multiparameter systems (coupling for instance physics and biogeochemistry), tools are under development at Ifremer as well as at CNRS/INSU. In concurrence with its strategic orientations, INSU, in partnership with Ifremer, aims to reinforce its capacities in the field of databases.
Geoscience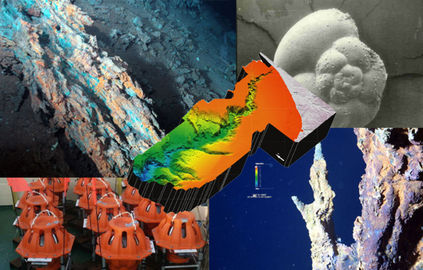 The majority of marine geoscience data is obtained during scientific research cruises onboard coastal and offshore vessels as well as during research cruises scheduled for industrial purposes onboard various vessels. It can also be obtained through foreign-run cruises in the French EEZs. Certain data, in particular geophysical data, can be recorded by aerial or satellite sensors. Geological data relating to the French continental shelf is archived in the national Marine Geology Bank (BGM) in compliance with the "Mining Code". BGM, placed under the responsibility of the French geological survey BRGM, plays a fundamental role. Geological data obtained by the Ifremer fleet has been managed since 2004 by BGM-B, and SHOM also gathers and manages sedimentological data. This distribution of data gathering and management led to cooperation within a national marine geoscience data network from 2008. However, from 2009, actions focused on European coordination and the implementation of the European Geoseas network, based on the SeaDataNet system and completed by mid-2012. The actions and results of this project highlight the need for increased coordination to ensure better system interoperability and more effective dissemination at national level.
Coastal environment
In this field, the Quadrige² and Sextant databases gather data produced by research projects as well as information from monitoring networks. Input data is supplied by Ifremer and by partners who use the databases for their own needs (French Agency for Biodiversity (AFB), Marine Mammal Research Centre (CRMM), etc.). Contracts on data banking and dissemination tools are established with institutional players which come under the Ministry of Ecology, in particular within the framework of the implementation of the WFD (Water Framework Directive).
AFB is currently considering developing complementary tools to meet the needs that are not presently satisfied by existing solutions, in particular as concerns video data.
Meanwhile, INSU and the network of marine stations (RESOMAR), in cooperation with INEE (National Institute of Ecology and Environment) is currently preparing to develop a "coastal database" information system intended to gather the benthic and pelagic data produced as well as information from the SOMLIT network (shoreline environment observation service). Furthermore, work is currently in progress to structure the INEE-MNHN databases by creating a joint research unit (UMS).
Fisheries
Harmonie, the database for the fisheries information system SIH is developed in close collaboration with the French Ministry of the Environment, Energy and the Sea (MEEM) and is interconnected with the ministry's information system (SIPA). For part of the French overseas fishing fleet, the French National Research Institute for Sustainable Development, IRD, operates its own data management system.
Biodiversity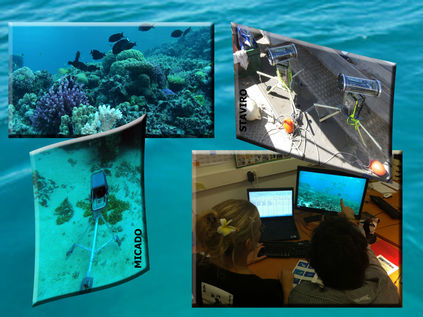 In the complex field of biodiversity, two national initiatives coexist:
- the nature and landscape information system (SINP) led by MEEM (French Ministry of the Environment, Energy and the Sea) and presented as a central component of the French National Observatory for Biodiversity. Ifremer is heavily involved in SINP alongside the National Museum of Natural History (MNHN) and AFB (French Agency for Biodiversity). Substantial efforts remain to be made to render the databases of public organisations interoperable (Biocean, Quadrige², Sextant and Harmonie for Ifremer) and provide access to the different information of interest in relation to biodiversity issues, in particular that obtained from the many players (NGOs, etc.) contributing to data collection. MNHN also plays an important role on a national scale due to the existence of the INPN (national inventory of natural heritage), which is also used for reporting on an international scale such as through the GBIF network.
Initiatives for French overseas territories should also be mentioned, in particular the COREMO database (coral reef data) supported by MEEM also related to the French initiative IFRECOR and the implementation of directives such as the WFD in the French overseas departments.
- the ECOSCOPE project, led by the Foundation for Research on Biodiversity (FRB), defined as the national hub in charge of coordinating biodiversity research observatories. This body is now recognised as a national rollout of the worldwide project GEOBON.
Over and above scientific data, it is worth noting the existence of a database managed by FRB on the members of the scientific "biodiversity" community on a national scale. This database is used by the national environmental research alliance AllEnvi, the ECOSCOPE project and for organising French scientific expertise in response to the implementation of the Intergovernmental Science-Policy Platform on Biodiversity and Ecosystem Services (IPBES).
While SINP and ECOSCOPE ultimately fulfil different purposes, there is potentially considerable overlap between the two tools. Observation data (in the sense of observation for research) on biodiversity is often of interest for managers in that it helps them to define biodiversity protection measures. The aim is therefore to ensure smooth coordination of the two approaches.
The information archived in Ifremer's databanks is widely used to fulfil the French State's European and international commitments.
All of SISMER's activities are carried out through partnerships on different scales:
- regional, with local authorities, decentralised State services and observatories. For instance, close cooperation has been developed with MIMEL (the interservice mission for the sea and shoreline) in Normandy in order to create and format a corpus of geographical information obtained from State services and from several organisations involved in this area. This corpus, built on the Sextant server, is used to support public decision-making as well as to facilitate knowledge of scientific work conducted.
- national, with our line ministries, but also with the main organisations active in complementary fields to those of Ifremer. To quote some examples illustrating various types of collaboration, the following achievements can be mentioned:
the marine hydrological data centre led and operated jointly with SHOM. Similarly, the pooling of data banking activities for data obtained from acoustic sounders (bathymetry, imagery) was validated by the SHOM-Ifremer Executive Committee.
the participation of Ifremer in fisheries data management under the authority of the Ministry of Agriculture and Fisheries.
Ifremer's responsibility for managing intermediate and inshore waters, within the National Information System on Water.