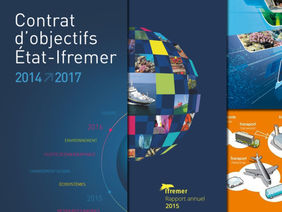 The State-Ifremer Objectives Contract includes some of the objectives of the Strategic Plan and outlines the prospects in terms of managing and processing scientific data.
The institute's two main activities determine these objectives:
Research programmes conducted either internally or through national, European or international partnerships
Several of these research programmes have a heavy impact on data management. This is particularly the case in the fields of physics and biogeochemistry: "furthering understanding and representation of the physical and biogeochemical processes underpinning ocean dynamics and the structure of coastal ecosystems, though a dual approach of simulation and observation. This relies on new automated observation techniques and innovative digital techniques to both process and utilise big data (management and processing of satellite and in situ data, at different scales and combining different themes and associated calculation methods)".
Supporting the deployment of maritime policies
Ifremer's information systems and know-how in this field contribute to the implementation of information systems on a national and European scale: the Water Framework Directive (WFD) and French water information system, the French nature and landscape information system (SINP), the Marine Strategy Framework Directive (MSFD), the Common Fisheries Policy (CFP) and the Data Collection Framework, the Inspire Directive and the French GéoPortail.
The aim is to better articulate information systems operated by the State and Ifremer by facilitating data access. Ifremer has developed expertise in data banking and distribution and currently manages two databases: Quadrige² on the shoreline environment and Harmonie for fisheries data. These databases are partly dedicated to expertise in public policy support. Several actions are planned to improve the consistency between these initiatives and to specify how they are funded (French food directorate DGAL and French national water and aquatic environments office ONEMA, French sea fisheries and aquaculture directorate DPMA).
The MSFD also provides a new framework (extended geographical scope in relation to the WFD, expansion of the pluridisciplinary approach), within which the unit plays a major role.