Rationalising data classification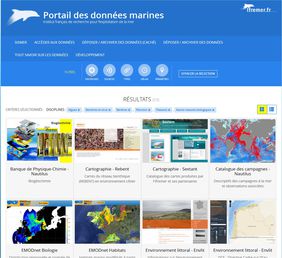 Marine data is currently managed under thematic-based systems (biology, physics, etc.) and according to the observation systems used to obtain it (satellites, in situ observations, etc.).
Since 2014, the creation of the Marine Data Portal has extended this rationalisation effort by calling for the thematic portals to be harmonised. This technical harmonisation should also be extended by the harmonisation and simplification of the legal framework governing data access.
Defining the legal framework for data access
s
Very often, the data generated by Ifremer is freely accessible, in some cases after a promotional period to which the observation leaders are entitled. Users are however often required to log in to:
obtain a user license online,
be recorded in order to track the number of users of the services provided.
Several cases however do not comply with this general rule: protection of natural resources, protection of the environment and sensitive areas, protection of individual data, and enhancement of the economic value of the data. Such cases are exceptions which must often been examined prior to distribution.
Likewise, the status of information produced through partnerships or developed from external data (institutional data from ministries for instance) is rarely clearly set out in agreements between partners.
Ifremer must establish a harmonised legal framework and make it easily accessible to any given user. To do so, it draws on the guidelines defined or currently being defined at European level (PSI Directive, Inspire Directive) and French level (data policy promoted by Etalab). SISMER builds on this legal framework to establish distribution rules that are easily understood and implemented for its online services.