An ambitious European directive for the marine environment
The 2008 Marine Strategy Framework Directive (MSFD) is the environmental cornerstone of the European maritime policy. It aims to achieve Good Environmental Status of the EU's marine waters by 2020. Complementary to the Water Framework Directive (WFD), it requires Member States to introduce management measures and a monitoring programme in order to meet this goal. Given the vast thematic and geographical scope of the MSFD, the acquisition and management of the information required to provide indicators and monitor the progress towards Good Ecological Status are real challenges.
While each Member State is responsible for implementing the directive, the aim is to harmonise data exchange and flows with the European Commission. This is the focus of the European project EMODnet (European Marine Observation and Data Network).
Setting up a marine service for the environment and security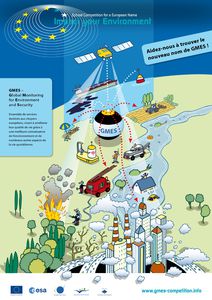 GMES (Global Monitoring for Environment and Security) is a programme launched in the 1990s to set up a European Earth observation system. Its overall objective was to gain a deeper understanding of environmental phenomena.
The projects MyOcean I (2009-2012) and MyOcean II (2012-2014) aimed to consolidate GMES Marine Core Services, a European analysis and forecast system for the global ocean and regional European seas. This system consolidated the services, provided by Ifremer, to supply observation products (in situ and satellite) for operational ocean state forecasting services.
Copernicus is the sequel to MyOcean.