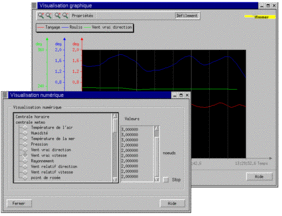 At the end of an oceanographic cruise carried out on one of Ifremer's vessels, all data measured en route is placed on a specific network disk at Genavir, accessible by the operators of SISMER's geophysical data bank in charge of their recovery. This concerns geophysical data and some physical data (ADCP hull data and velocity data).
At Genavir, each type of data is organised into a tree structure that is recognisable by vessel, year, cruise and type of instrument.
Once informed that data are ready on Genavir's disk, the operator copies the data to an organised SISMER workspace.
Voluminous data, such as seismic, bathymetric and sonar data, are long-term backed up directly on the HSM system, while other data are backed up on the archiving robot Object Archive (OANET). In both cases, the data are also archived in archiving areas, which are dedicated directories for each cruise and are hierarchically organised and backed up on a daily basis.
These dedicated directories enable easy access to data which are checked at the time of a request for data, for example. Indeed, recovering data from the HSM system or via Object Archive can take a long time and is suitable for quick data searches.